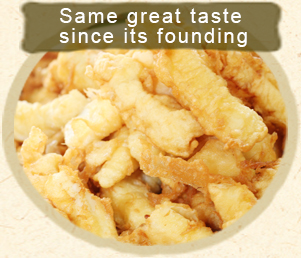 Nakamoto Sengyo Tempura Shop has worked arduously to preserve the same great delicious taste since its founding. We make our tempura with love to offer our customers fresh and fluffy tempura.
Our customers love our tempura so much that every day, we see people forming lines at the counter. Our most popular tempura is the fresh seasonal fish. The fresh and plump fish is seasoned with perfection. You'll never get tired of it. Fish are deboned, so small children can enjoy them too. Because we only use the fresh catch-of-the-day, the amount of tempura available is limited and may be sold out by sunset… Please come and taste our tempura. We have varieties of delicious tempura's for you.
The taste and size are more than what you pay for, and your taste buds will surely be satisfied!